A Strong Voice Changes Everything
A Strong Voice Changes Everything
photo credit:Jessica Felicio
Hi. This is Alice.
A voice recorder and a transcribing service.
That's fast, safe and cost-effective.
Privacy First
No ads, no tracking, no data mining, no social buttons. Your content belongs to you.
Start for Free
Then pay only for what you use. No subscription, no tricks, no dark patterns.
Not Another Silo
Integrates with tools you already use to simplify your workflow and allow easy collaboration.
Used by Experts
Used by eminent writers from leading organizations. Designed with their input.
"The easiest, quickest way to get the quote you need, without having to clean up the transcript."
"I love the synced playback. Saves me so much time."
⭐️ ⭐️ ⭐️ ⭐️ ⭐️
People Love Alice!
"Alice has been my saving grace as a time-strapped, full-time freelancer. You'll get shockingly accurate transcripts for a fourth or fifth the price of top transcription services—in a quicker turnaround. Definitely recommending to all my journalist friends."
"I UNHESITATINGLY RECOMMEND ALICE!! PLEASE do yourself a HUMUNGOUS favor and download this app. (Crying emoji x10) I've been putting off planning a speech for the longest but then I googled "turn a voice memo into text" and this app was the top recommendation. Upon setting it up, it had me do a test recording, and since it automatically start recording I began practicing aloud and thanks to God finally got out all of my thoughts and different kinds of ways to say things for a speech, which I had been putting off for SO LONG. "
"Your transcribing is so much more accurate!"
"I've been using Alice for the last few months with great success!"
"I've really loved using Alice for my interview recordings/transcriptions."
"This is a good service. Glad I researched and found this app. I am gathering a long oral history and this will save me untold time."
"ALICE is the best tool for investigative journalism. Top quality. Top recordings."
"I'm new and love the app."
"I can't say enough good things about the app!"
"OK soooo I am amazed at how well this works."
"I used a couple of other apps, but yours is far easier to use. Great invention! Very impressive!"
"I really love this application!"
"I really appreciate your attentiveness and care - really means a lot and shows your dedication to users."
"It is SO easy to use and even sends you a transcription!"
What's In The Box
A blazing fast website to upload your media & get transcripts.
A recorder on the website to capture audio from any speaker.
A unique app for your phone to record audio.
Get a Transcript Now
Upload an audio file and see how it all works. The transcript will be emailed to you right away. It's free, a credit card is not required.
From the website you can:
Upload any audio file and get back a transcript.
Record calls from your computer's microphone.
Playback audio from within the transcript.
Share interviews and transcripts with anyone else.
Try the App
The first evolution of the audio recorder in 20 years.
Fast. Reliable.
Eyes-free.
A refreshingly bold and intelligent design.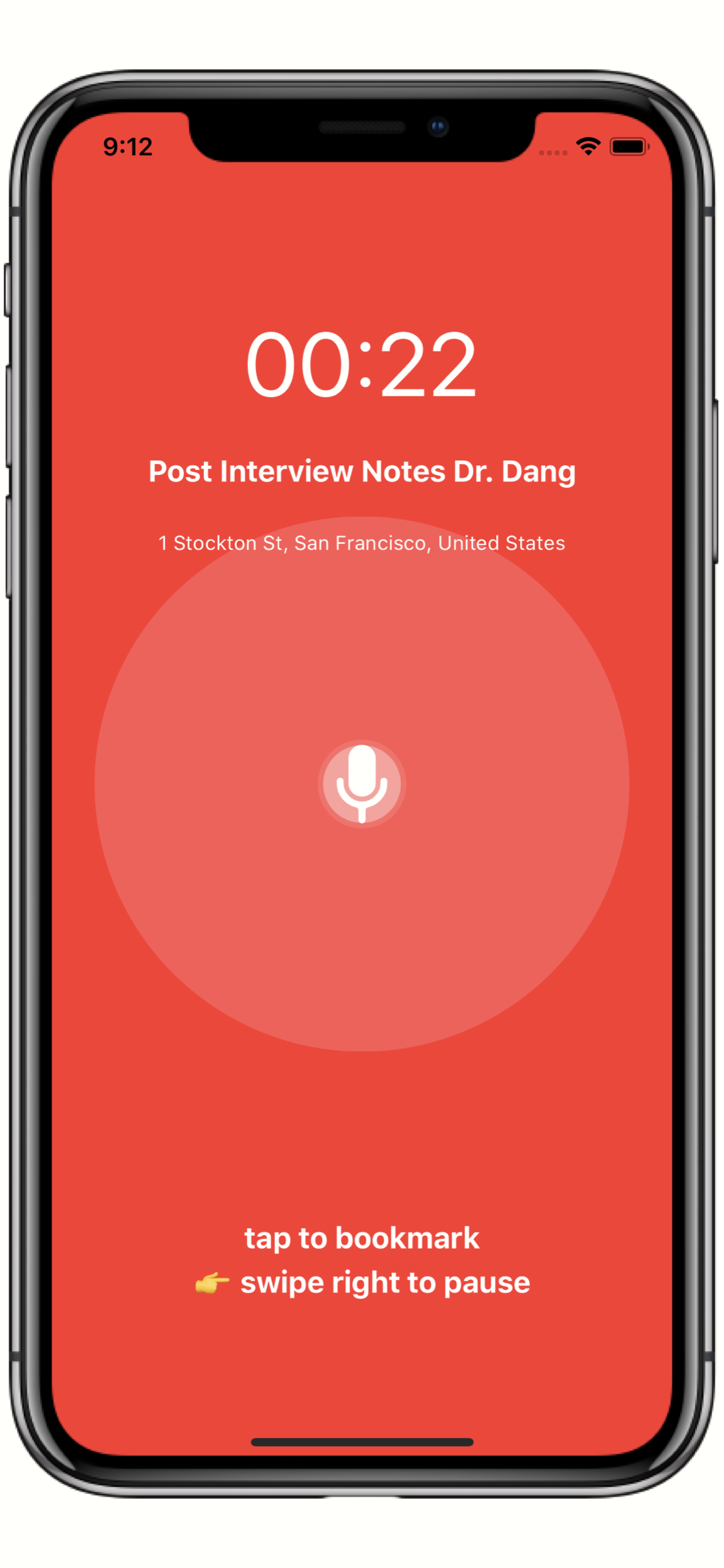 Design Principles
shouldn't need to look at the device
start recording instantly
should capture the audio with total reliability
should use the least amount of battery possible
should handle incoming phone calls
should handle switching apps, say to Camera or Messages
should work right or left-handed
"I've been waiting years for someone to do what you're doing."
How Does It Work
When you need to get from Recordings → Transcripts → Story.
See sample transcript: Writing Advice by Stephen King
Different Speakers Identified.
Playback Audio in the Transcript.
Easy to Share and Collaborate.
Automatically Sends Recordings & Transcripts to